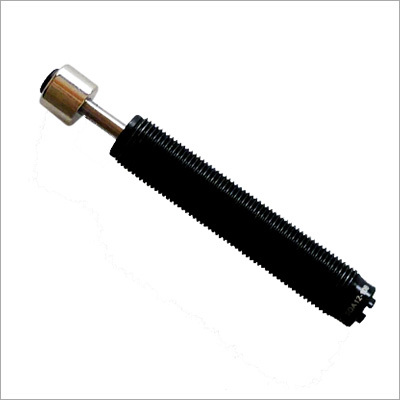 Product Description
Adjustable Series Shock Absorbers
Our company is a prominent Exporter, Supplier and Manufacturer of Adjustable Series Shock Absorbers. The offered series is designed and developed under the instructions of our team of adroit and talented professionals, by utilizing the optimum quality materials and modern techniques, in sync with the international market standards. We promise to dispatch the ordered products in a given time period and make sure to provide the fault-free, excellent durability and superior performance series. Apart from this, the Adjustable Series Shock Absorbers available to us in different specifications at competitive prices.

Key Features :

Zn-Ni Coating for improved anti-corrosive properties
All external thread-type body surface offer easy installation.
Temperature coverage: Standard: -10 to 80°C Special: -40 to 120°C
Stop collar is not required if you are using steel head.
Impact noise will be reduced with poly pad / urethane cap.
Efficient heat energy dissipation by increased body surface area.
Velocity range: 0.3 to 5m/s, Low Speed - optional
Adjustment dial can set twelve finite steps as per impact velocity condition, with a wide damping control range.
Bearing is engineered to protect seal by using specific material, and it ensures long-term durability.
Energy absorption is 200% with an effective, expanded weight coverage compared with the former creations.
Engineering Data :

Model

Stoke

Max. Energy / Cycle

Max. Energy / Hour

Effective Weight (kg)

Recoil Force (N)

Weight

(mm)

(Nm)

(Nm/h)

Min.

Max.

Ext

Comp

(g)

SDA12-10(B)

10

16

30,500

1.5

333

3.6

9.8

55

SDA14-12(B)

12

18

38,000

1.8

400

4.9

11.4

80
Dimensions :

| | | | | | | | | | | | |
| --- | --- | --- | --- | --- | --- | --- | --- | --- | --- | --- | --- |
| Model | Stoke | A | B | C | D | E | F | G | H | M | Dr |
| SDA12-10(B) | 10 | 84 | 1.2 | 62.8 | 10.0 | 74.0 | 10.3 | 10.5 | N/A | M12X1.0 | 4 |
| SDA14-12(B) | 12 | 96 | 1.2 | 72.8 | 10.0 | 86.0 | 12 | 10.5 | 12.5 | M14X1.5 | 4 |
Accessories :

Model

Stop Collar

Side Load Adapter

Clamp Mount

Lock Nut

A1

A2

A3

A4

B1

B2

B3

B4

B5

C1

C2

C3

C4

C5

C6

D1

D2

D3

SDA12-10(B)

20

8

13.8

M12X1.0

12

17.5

10

M12X1.0

5

20

16

32

12

M12X1.0

MX18L

14

M12X1.0

4

SDA14-12(B)

27

12

18

M14X1.5

14

19.5

12

M14X1.5

6

20

20

32

12

M14X1.5

M5X25L

19

M14X1.5

5
Contact Us
A704 Gab-Eul Greatvalley 32 Digital-Ro 9-Gil, Geumcheon-Gu, Seoul, Seoul, 08512, Korea South
Phone :82-10-93717149