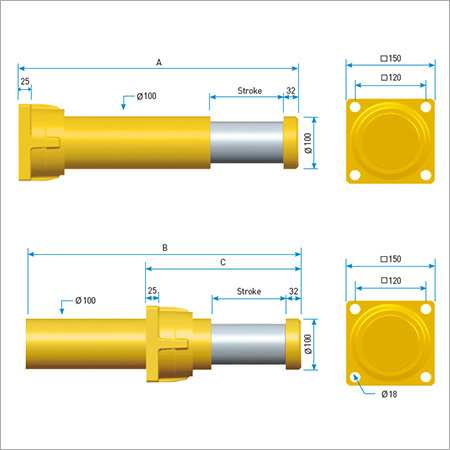 Product Description
Hydraulic Gas Buffers

Owing to our wide distribution network, we have been able to provide fine grade Hydraulic Gas Buffers. To ensure their flawlessness, these buffers are tested on different parameters. With the implication of cutting edge techniques, the offered buffers are manufactured under the stringent surveillance of experienced professionals. Known for their sturdiness and highly strength, the provided Hydraulic Gas Buffers are ideal to be used for installing in the engines of vehicles for protect optics.

Key features:

Reduce Felt Gas
Improve Accuracy
Control Fire Rate
Suppress Bolt Bounce

Specification:

Body : Epoxy painted
Deceleration : Custom orificed design
Piston Rod : Hardened, hard chrome plated
Standard : OSHA, AISE, CMMA, DIN, FEM
Temperature : -20 ~ +80°C Special : -40 ~ +10°C
Other Details :
Manufactured with optimum efficiency
Protect equipment & personnel safely
Offer smooth constant deceleration
Buffers are separately simulated for different operating conditions.
Specification :
Engineering Data :

Model

Stroke

Max. Energy / Cycle

Max. Shock Force

Recoil Force (kN)

Weight

(mm)

(kNm)

(kN)

Ext

Comp

(Kg)

HDS100-80

80

16

250

2.4

16

20

HDS100-100

100

20

250

2.4

16

25

HDS100-150

150

30

250

2.4

20

28

HDS100-200

200

40

250

2.4

20

34

HDS100-250

250

50

250

2.4

25

39

HDS100-300

300

60

250

2.4

25

43
Dimensions :

Model

Stoke

Rear Type

Front Type

Mounting Bolt Size

(mm)

A

B

C

HDS100-80

80

423

403

215

16

HDS100-100

100

450

430

252

16

HDS100-150

150

580

560

315

16

HDS100-200

200

720

700

377

16

HDS100-250

250

865

845

440

16

HDS100-300

300

1,010

990

502

16
Contact Us
A704 Gab-Eul Greatvalley 32 Digital-Ro 9-Gil, Geumcheon-Gu, Seoul, Seoul, 08512, Korea South
Phone :82-10-93717149