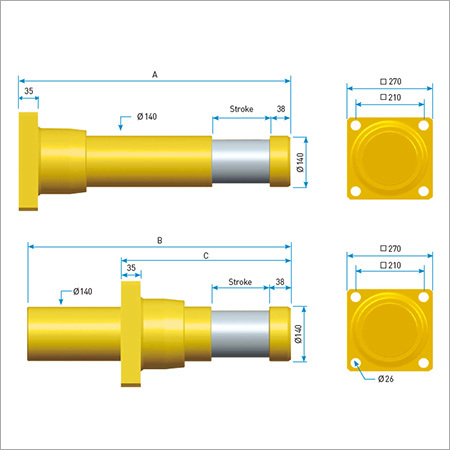 Product Description
Hydraulic Oil Buffer

Recognized as a profound enterprise, we are engaged in offering excellent grade Hydraulic Oil Buffer. Using quality checked basic materials, this buffer is manufactured by ingenious professionals at our advanced unit. The provided buffer is ideal to be used for slowing down moving loads. This buffer is widely used to be installed in machines and vehicles as piston rod. Furthermore, this Hydraulic Oil Buffer is known for its robust construction and fine finish.

Key Features:

Light in weight
Sturdiness
Rust free
Defect free nature

Specification:

Temperature : -20 ~ +80°C Special : -40 ~ +10°C
Standard : OSHA, AISE, CMMA, DIN, FEM
Piston Rod : Hardened, hard chrome plated
Deceleration : Custom orificed design
Body : Epoxy painted
Other Details :
Offer smooth constant deceleration
Protect equipment & personnel safely
Manufactured with optimum efficiency
Buffers are separately simulated for different operating conditions.
Technical Specification :
Engineering Data :

Model

Stroke

Max. Energy / Cycle

Max. Shock Force

Recoil Force (kN)

Weight

(mm)

(kNm)

(kN)

Ext

Comp

(Kg)

HDS140-100

100

55

688

6

70

60

HDS140-200

200

110

688

6

70

60

HDS140-300

300

165

688

6

70

60

HDS140-400

400

220

688

6

78

135

HDS140-500

500

270

680

6

78

150

HDS140-600

600

300

630

6

78

160

HDS140-800

800

325

510

6

78

185

HDS140-1000

1000

360

450

6

78

200
Dimensions :

Model

Stoke

Rear Type

Front Type

Mounting Bolt Size

(mm)

A

B

C

HDS140-100

100

480

460

290

24

HDS140-200

200

770

750

422

24

HDS140-300

300

1,060

1,040

547

24

HDS140-400

400

1,350

1,330

712

24

HDS140-500

500

1,630

1,610

847

24

HDS140-600

600

1,930

1,910

982

24

HDS140-800

800

2,350

2,330

1,252

24

HDS140-1000

1000

N/A

2,880

1,595

24
Contact Us
A704 Gab-Eul Greatvalley 32 Digital-Ro 9-Gil, Geumcheon-Gu, Seoul, Seoul, 08512, Korea South
Phone :82-10-93717149