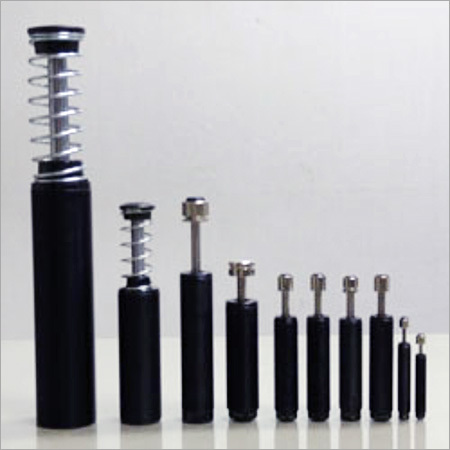 Product Description
Large Shock Absorber

With an aim to become a leading entity in this domain, we are engaged in offering the finest grade Large Shock Absorber(MDA85 Series). The provided product is available in various specifications as per requirements of our valued patrons. This product is coated with Zn-Ni body that enables to improve anti corrosiveness for a long time usage. At our modern unit, the offered product is manufactured using quality checked raw materials with the help of contemporary techniques. Additionally, this Large Shock Absorber(MDA85 Series) can be fitted with coaxial coil or air spring.
Key Points:
Convenient installation
Rugged construction
Highly strength
Accurate dimension

MDA85 Series Large Shock Absorber

Special Features :

Stop collar is not required if you are using steel head.

Impact noise will be reduced with poly pad / urethane cap.

Efficient heat energy dissipation by increased body surface area.

Velocity range: 0.3 to 5m/s, Low Speed - optional

Zn-Ni Coating for improved anti-corrosive properties

All external thread-type body surface offer easy installation.

Temperature coverage: Standard: -10 to 80°C Special: -40 to 120°C

Adjustment dial can set twelve finite steps as per impact velocity condition, with a wide damping control range.

Bearing is engineered to protect seal by using specific material, and it ensures long-term durability.

Energy absorption is 200% with an effective, expanded weight coverage compared with the former creations.
Specification :
Engineering Data

Model

Stoke

Max. Eergy / Cycle

Max. Energy / Hour

Effective Weight (kg)

Recoil Force (N)

Weight

(mm)

(Nm)

(Nm/h)

Min.

Max.

Ext

Comp

(g)

MDA85-50

50

3,600

416,000

288

80,000

132

271

14,000

MDA85-100

100

7,200

745,000

576

160,000

125

327

20,000

MDA85-150

150

10,600

800,000

848

235,550

127

386

28,000
Dimensions :

Model

Stroke

A

B

C

D

E

Min

Max

Min

Max

MDA85-50

50

251

145.5

25

114

120.5

162.5

312

MDA85-100

100

384.5

217

25

187

182.5

261

447

MDA85-150

150

513.5

292

25

262

236.5

352.2

N/A
Accessories :

Model

Stop Collar

Side Load Adapter

Clamp Mount

Lock Nut

A1

A2

A3

A4

B1

B2

B3

B4

B5

C1

C2

C3

C4

C5

C6

D1

D2

D3

MDA85

94

94

98

M85X2.0

104

76

19

M85X2.0

13

115

100

145

30

M85X2.0

M12X100L

110

M85X2.0

16
Contact Us
A704 Gab-Eul Greatvalley 32 Digital-Ro 9-Gil, Geumcheon-Gu, Seoul, Seoul, 08512, Korea South
Phone :82-10-93717149