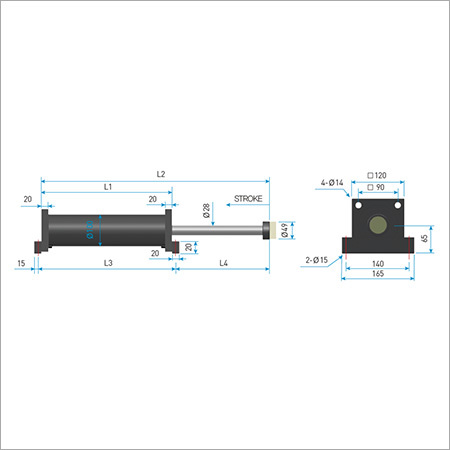 Product Description
The
Stacker Crane Buffer
manufactured on our premises, under the instructions of our team of adept and talented professionals. All the crane buffer are designed by using the quality-approved materials and innovative techniques, in set with the international market standards. All the products are export after testing the quality and performance on different parameters. Furthermore, we are supplying the
Stacker Crane Buffer
in different specifications at very reasonable prices.
Other Details
:
Primarily used for automatic storage system
Maintain comparatively low peak & recoil forces
In normal operation, provide minimal resistance
Offer smooth, effective deceleration in emergency stop
Accessible in a large capacity rated up to 930 kNm, with 1200mm stroke.
Application
Automotive production lines
Small over head cranes
Stacker cranes
Theme park riders
Key Features
:
Cylinder : Zinc plated
Deceleration : Custom orifice
Impact velocity : Max. 6 m/s (Special piston rod : Hardened steel)
Option : Protective bellows, Safety cable, Urethane cap, Large cap
Piston rod : Hardened, hard chrome plated
Recoil force : Low peak and recoil force
Standard : OSHA, AISE, CMMA, DIN, FEM
Temperature : -20 ~ + 80 (Normal type) and -40 ~ +100 (Special type with Special seal and oil).
Specification :

| | | | | | | | | |
| --- | --- | --- | --- | --- | --- | --- | --- | --- |
| Model | Stroke (mm) | Max. Energy / Cycle (kNm) | Max. Shock Force (kN) | Weight (Kg) | L1 | L2 | L3 | L4 |
| LDS40-50 | 50 | 3.0 | 70 | 13 | 210 | 310 | 240 | 85 |
| -100 | 100 | 6.0 | 70 | 14 | 260 | 410 | 290 | 135 |
| -150 | 150 | 9.0 | 70 | 15 | 310 | 510 | 340 | 185 |
| -200 | 200 | 12.0 | 70 | 16 | 362 | 612 | 392 | 235 |
| -250 | 250 | 15.0 | 70 | 17 | 413 | 713 | 443 | 285 |
| -300 | 300 | 8.0 | 70 | 18 | 464 | 814 | 494 | 335 |
| -350 | 350 | 21.0 | 70 | 19 | 514 | 914 | 544 | 385 |
| -400 | 400 | 20.4 | 60 | 20 | 565 | 1,015 | 595 | 435 |
| -450 | 450 | 18.3 | 48 | 21 | 616 | 1,116 | 646 | 485 |
| 500 | 500 | 16.5 | 39 | 22 | 667 | l,217 | 697 | 535 |
| -550 | 550 | 14.2 | 28 | 25 | 769 | 1,369 | 799 | 585 |
Contact Us
A704 Gab-Eul Greatvalley 32 Digital-Ro 9-Gil, Geumcheon-Gu, Seoul, Seoul, 08512, Korea South
Phone :82-10-93717149